Sabatino's Restaurant - CLOSED

~ Sabatinos Restaurant in Chicago Is Now Closed. ~ 
On Behalf of the Sabatino's family, thank you for your decades of patronage and keeping Sabatino's Chicago's #1 family Italian resturaunt.Here's to the next chapter. We hope everyone stays safe during these times. For now, you can find memories of Sabatino's here on our website here as well as Instagram, Facebook, and Twitter.
Sabatino's is an anachronism that's hipper than you'd give it credit for. It is a snifter of brandy, a velvet smoking jacket, Buddy Rich's drum groove on "Mercy, Mercy, Mercy." It is "exquisite" and "quality" spoken with a thick Chicago accent, dressed to the nines in a bow tie and tuxedo vest.
  
It might also be voted Chicago's best restaurant if AARP The Magazine held a write-in poll, which is to say, the median hairstyle in the dining room is coiffed white. Sabatino's — Old Irving Park's venerable Italian restaurant for 40-plus years — has a menu reflecting its clientele's enduring tastes, with the kind of dishes sadly going the way of the dodo: shrimp DeJonghe, oysters Rockefeller, cherries jubilee, among other chestnuts.
  
The restaurant is so old, in fact, that co-owners (and brothers) Angelo and Enzo Pagni can't nail down an exact date, though they believe it's 1969. Back then, said Sabatino's office manager, Vickie Van Hove, "it was a spaghetti and meatball kind of place, nothing like it is now."
  
The Pagni brothers took a long boat ride from Genoa to New York City in 1966. Chicago was their destination. They were practically bambinos when they started cooking at Italian Village. After stops at other restaurants in town, they took over Sabatino's on Jan. 1, 1978. The key, Angelo Pagni said, was cooking a dish on that first day and having it taste exactly the same 33 years later. Customers here don't seek progress or innovation. They want reliability and nostalgia. "We have regulars who drive 30 miles to our restaurant, and that's a long way to come," Angelo Pagni said. "They make the extra mile to see you, you better be on the ball."
If you grew up in Chicago, Sabatino's was probably your first exposure to fine dining at the $30-an-entree level, and your grandparents likely brought you here. You're greeted at the door by neoclassical Grecian statues, because in the '70s they were the embodiment of interior decorating chic. Then you notice the fake bunched grapes, wine barrels and Christmas lights hanging on walls and you think, "Boy, this is some classy joint."
 
Original article by: Chicago Tribune.
 
 
Nestled in Chicago's storied Old Irving Park neighborhood, Sabatino's has been catering to its guests with authentic Northern Italian cuisine for over 30 years. Whether you're craving the perfect pasta dish the way your Nonna used to make it or a well aged prime cut of Filet Mignon, this Chicago standby will deliver with courteous service and attention down to the finest detail.
 
Come experience fine dining the way it was meant to be. With candle-lit private booths for that perfect romantic evening and ample space for family get-togethers, Sabatino's is the perfect place to celebrate any occasion with elegance, style, and mouthwatering fare! Be sure not to miss the strolling musicians crooning Frank Sinatra and Dean Martin during the week, or the live Piano Bar on Fridays and Saturdays. One trip to Sabatino's and you will have no doubt where you are truly treated like family.
Address: 4441 Irving Park Rd, Chicago, IL 60641
Phone: (773) 283-8331
Contact: This email address is being protected from spambots. You need JavaScript enabled to view it.
As Seen On:
 
Chicago's Best
 

America's Best
Chicago Tribune
Check Please!
Sabatino's Restaurant Chicago Pictures:
Sabatino's Restaurant Chicago Menus: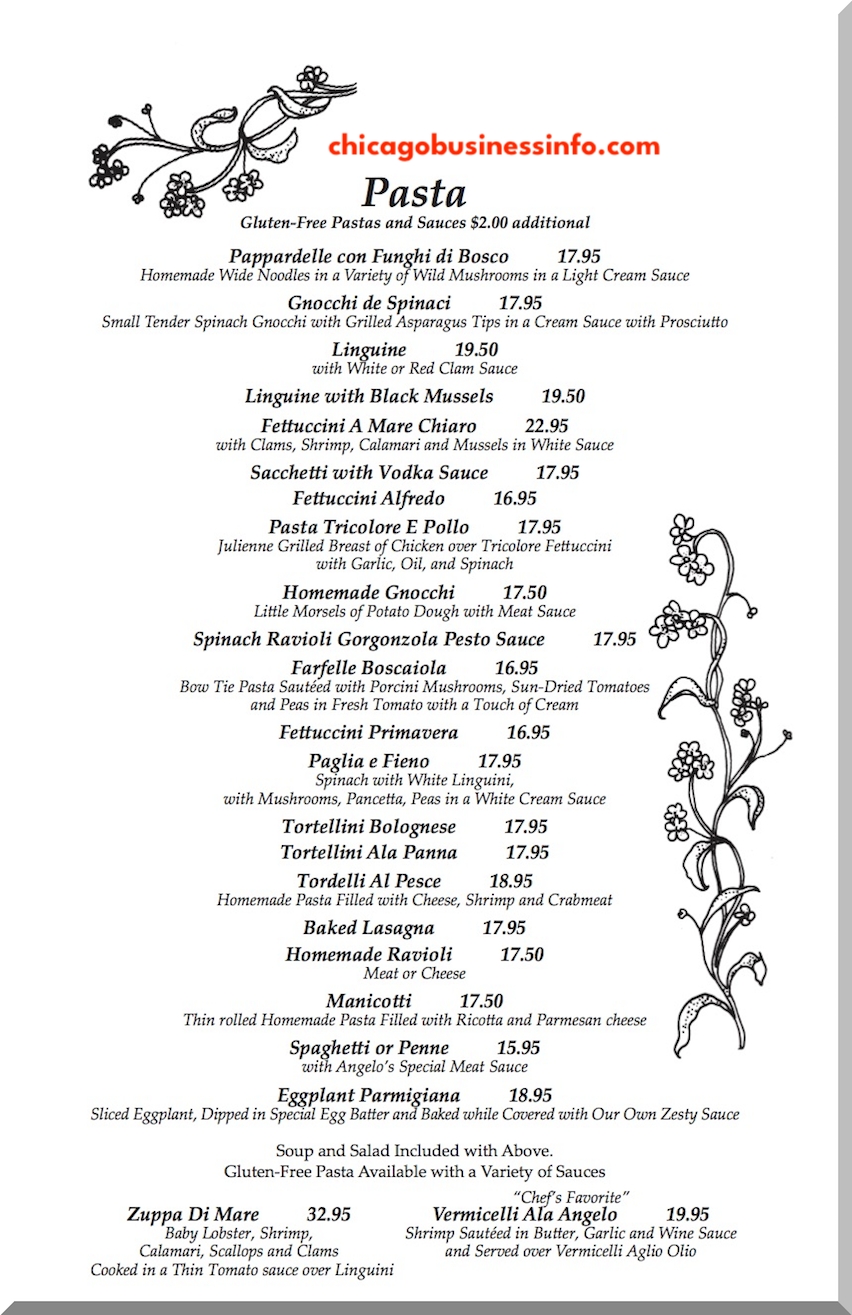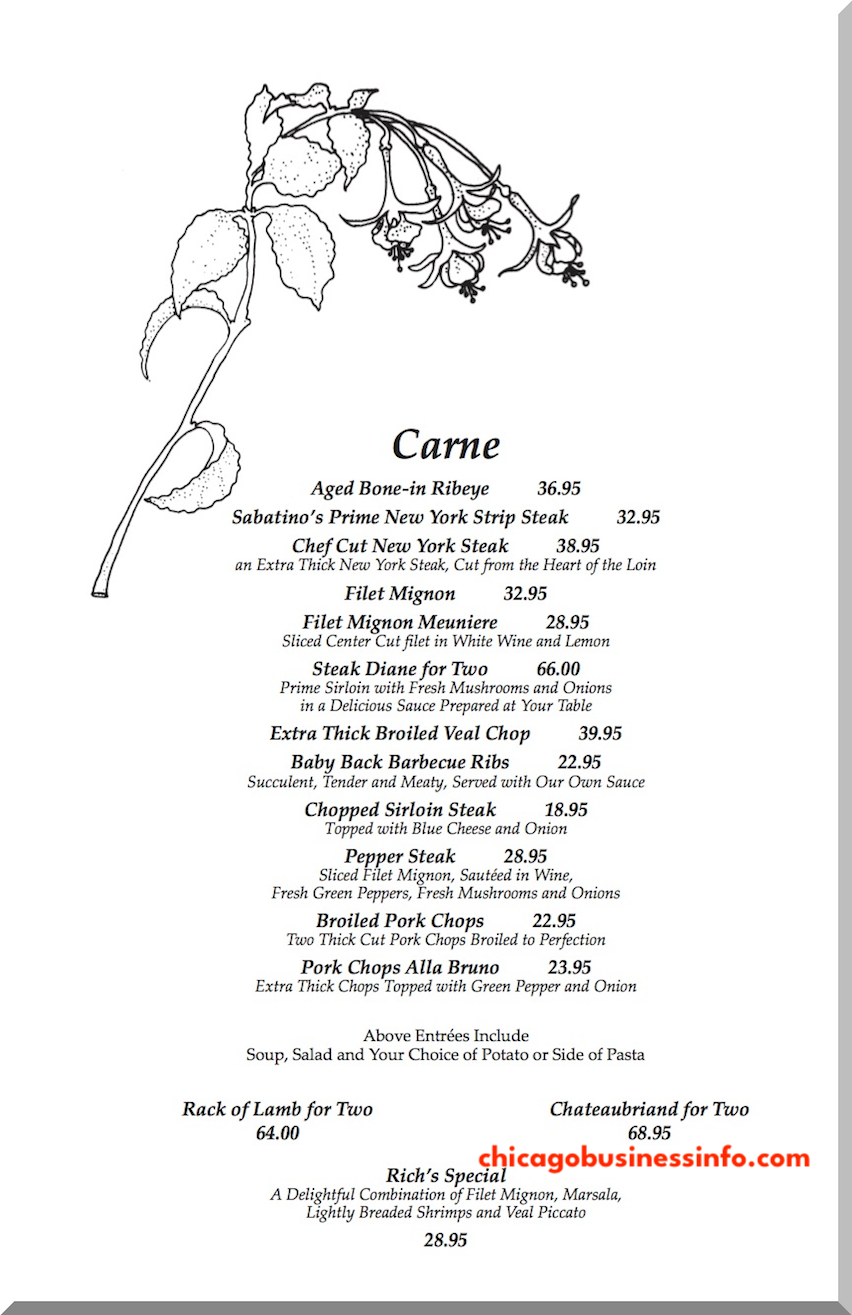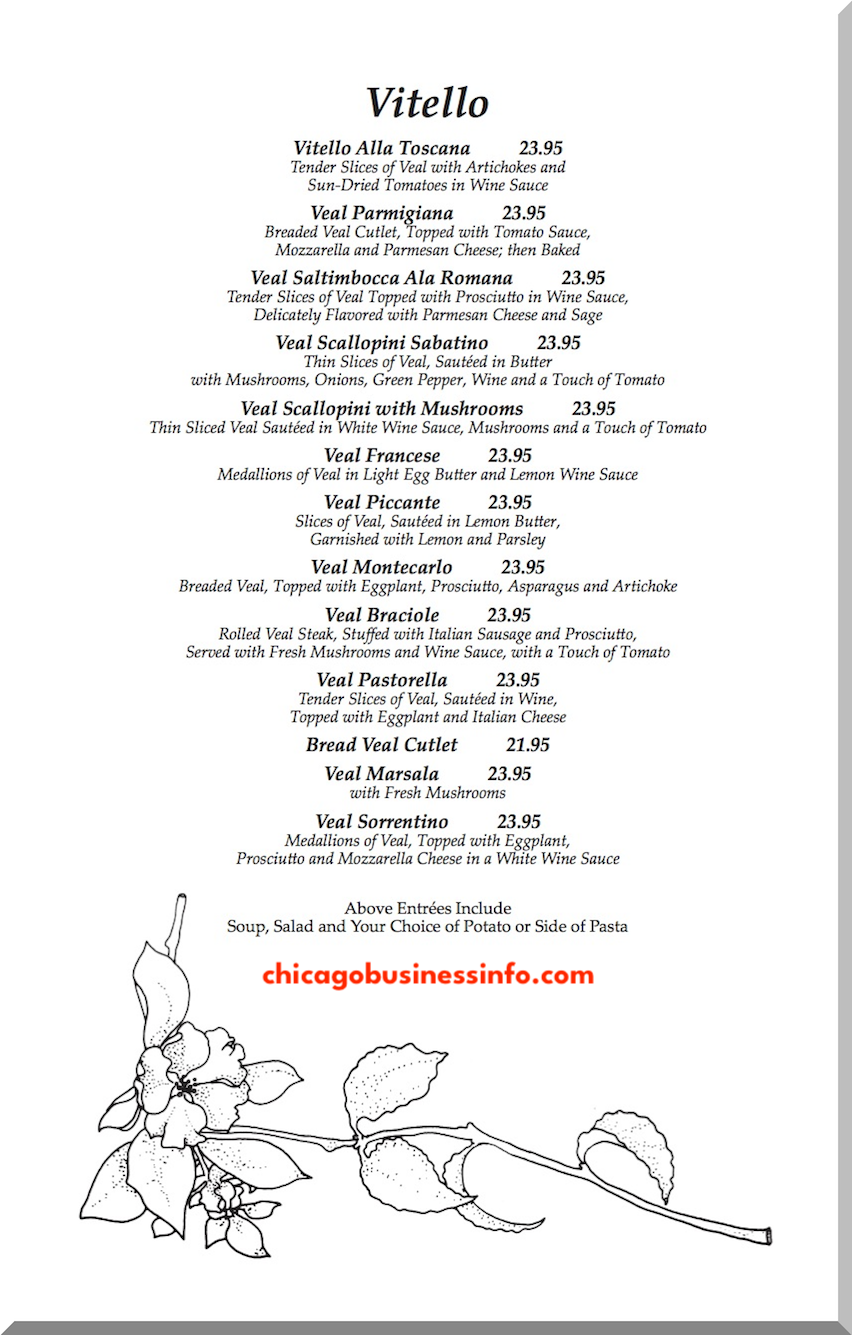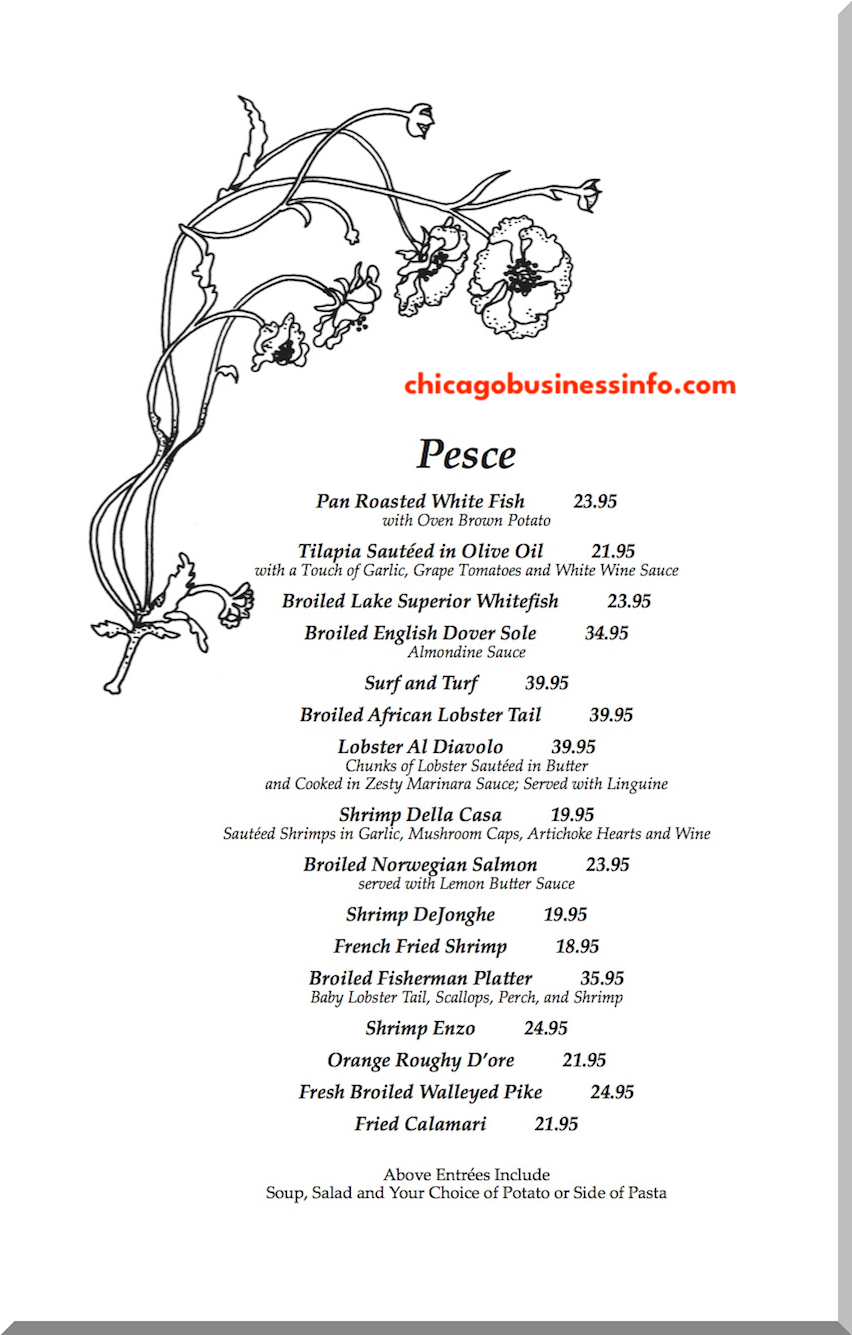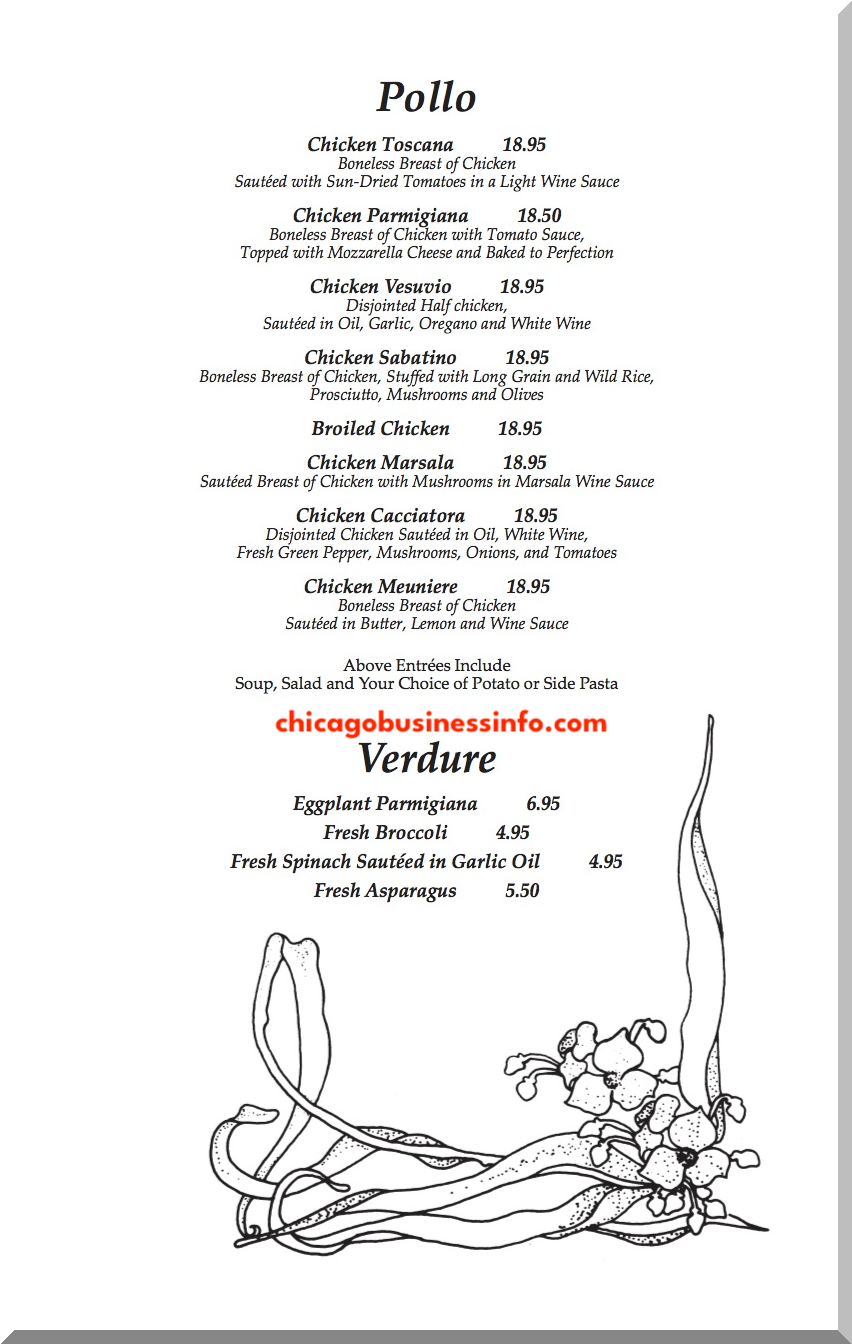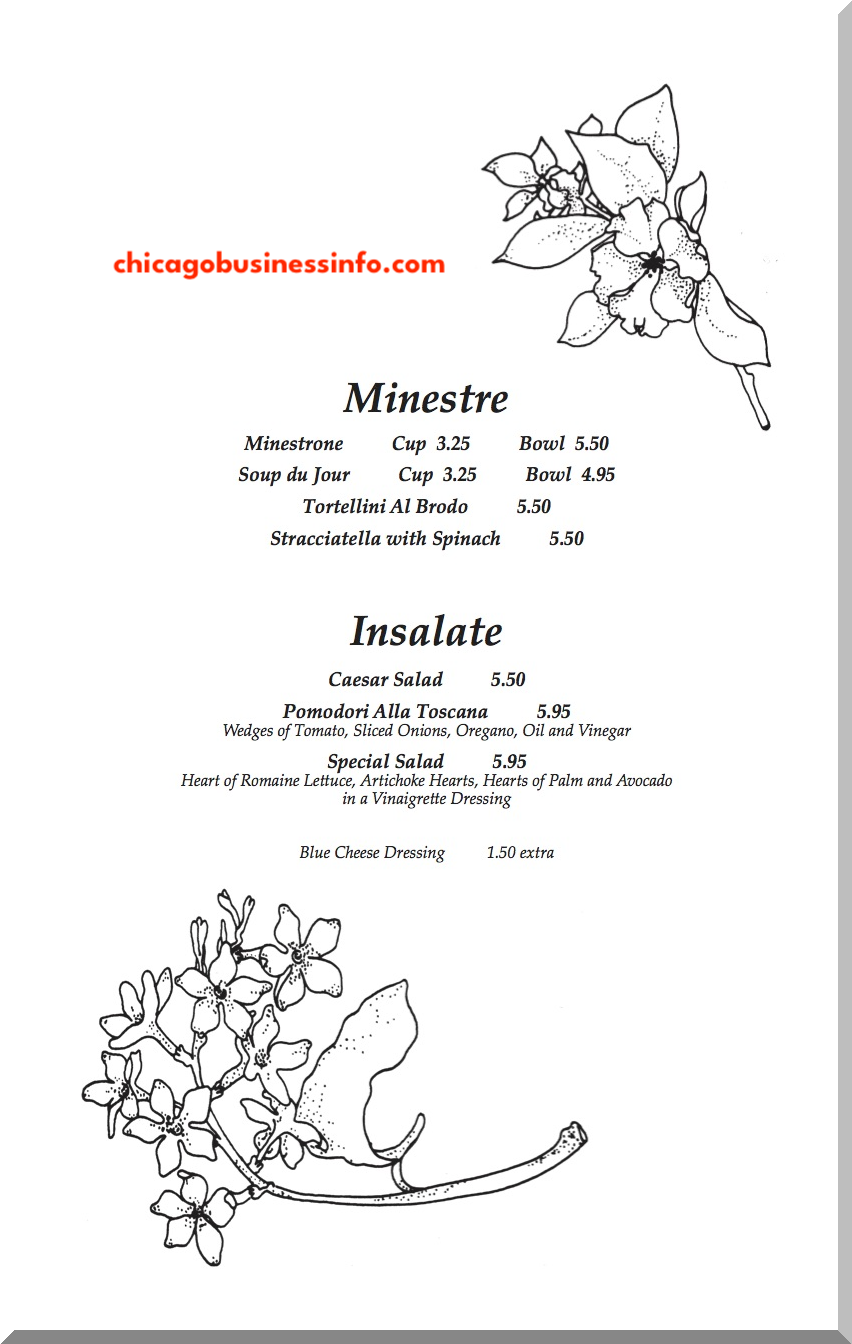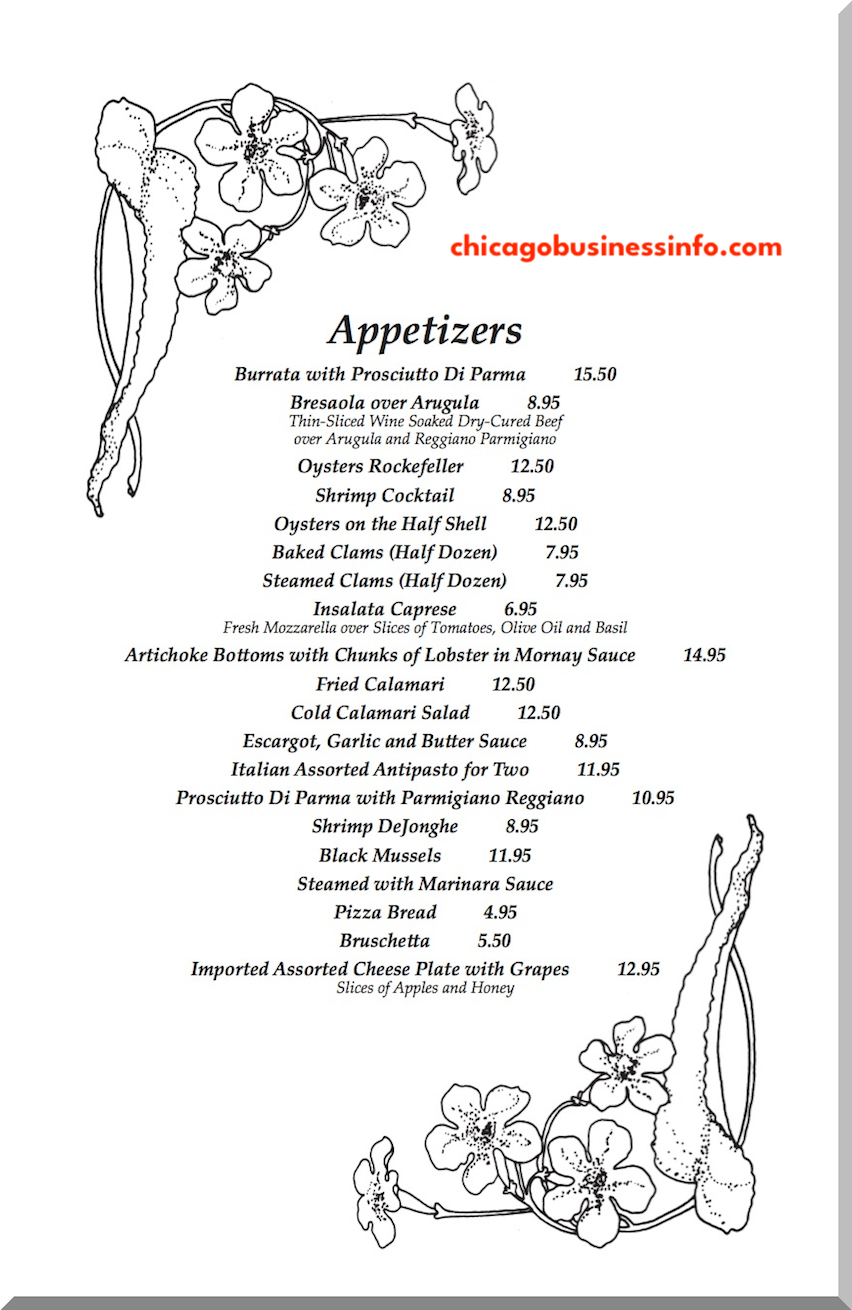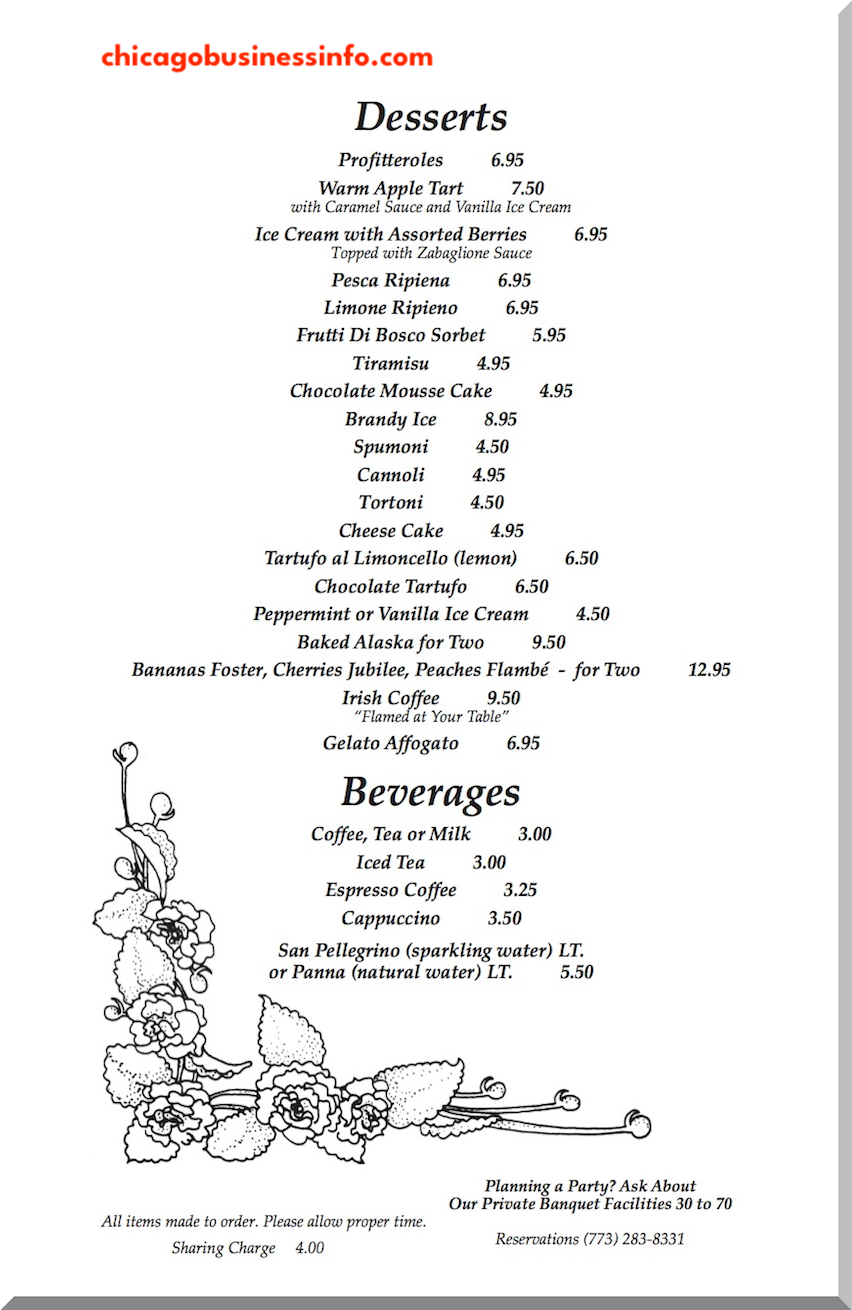 Last Updated: December 2023
(Pricing Listed Above is Subject to Change at Establishment)
Want to Submit a listing, deal, or something else? Learn more here.
*Comment below let us know outdated info, closings, feedback, reviews, or anything else related.*
Subscribe!
Subscribe to Chicago Business Info for the latest updates on new restaurant openings, AYCE - all you can eat spots, coupon deals, discounts on your favorite restaurants and businesses, BOGO - buy one get one free specials, businesses, and much more.
Comments
No comments made yet. Be the first to submit a comment