Remembering: Live Well Network (Episode Archives)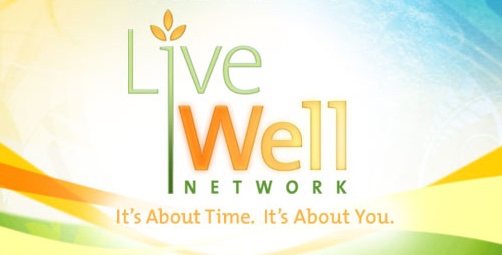 The Live Well Network offered a wide range of entertainment-based programs, including home decorating, fashion and beauty, food, health, travel and finance. The network featured shows and hosts with Chicago roots including Rick Bayless (Host of "Mexico One Plate at a Time" locally filmed in his Bucktown home), Christopher Koetke (Host of "Let's Dish" filmed at The School of the Culinary Arts of Kendall College), and Ryan Scott (Host of "Food Rush") who participated in Chicago's "Top Chef".
From Live Well Network:
The broadcast, online and wireless service for digital TV channels in the U.S. is your destination for lifestyle television. The network offers a wide range of entertainment-based programs, including home decorating, fashion and beauty, food, health, and travel. The programs are hosted by a team dedicated to inspiring viewers with easy tips and great ideas. The network's website features a variety of resources, including hundreds of recipes, expert advice and complete video of each episode.The Live Well Network is operated by ABC Owned Television Stations Group.
Brief History Of Live Well Network and Demise
Live Well Network was launched on April 27, 2009 in high definition on ABC's owned-and-operated stations as part of the stations' subchannels. Initially, the network only had three hours of original programming that are looped throughout the day which was all sourced from ABC stations. On June 9, 2014, network vice president Peggy Allen and ABC Owned Television Stations president Rebecca Campbell jointly announced to Live Well Network's staff that they planned to shut down the network in January 2015. Campbell and Allen stated that despite the success of the network, the division wanted to prioritize "local content" and its "core local news brands". Some of the network's shows might move over to the fyi cable network, a network ABC holds a half-interest in with Hearst Corporation via the A&E Networks joint venture. Many of the shows from ABC's stations are expected to end production.
On January 13, 2015 via an announcement by Green Bay affiliate WBAY-TV (and later confirmed by Chicago media writer Robert Feder), ABC announced that the network would be extended for two further months from their previous close date of January 16, 2015 with a revised program schedule to allow their remaining affiliates additional time to find subchannel programming. Its final LWN affiliate station in Washington, DC officially dropped the network on October 31, 2015, when it was replaced by Comet, completing the dropping on the network outside ABC-owned stations.

Live Well Network TV Shows:

Food Rush - Food Rush, featuring San Francisco based Chef Ryan Scott, takes viewers on an entertaining journey through his life as he juggles a catering business, food truck, and the opening of a brand new restaurant, all while sharing great insider tips on how to find, prepare, serve, and indulge in fantastic food.

My Family Recipe Rocks - hosted by TV personality, actor and former *NSYNC star Joey Fatone -- goes beyond the familiar celebrity chef show to highlight the stories of homegrown cooks and their homemade specialties from around the country.
Motion - hosted by Greg Aiello -- explores the outdoors on the road less traveled.

Knock It Off! - Hosts Monica Mangin and Jess Jackson show homeowners how to achieve a high-end look for less in their homes.
We Owe What? - Host Mary Caraccioli helps families get a handle on their debt.

Live Big with Ali Vincent - Host Ali Vincent -- first female winner of the 'Biggest Loser' -- goes on a personal journey around the country to help others discover their true selves.

Mirror/Mirror - Rebecca Spera shows off the latest trends in the beauty, health and fashion industries while hunting for bargains, indulging her passion for flamboyant accessories and customizing wardrobes.

Let's Dish - International culinary instructor Christopher Koetke cooks up great and easy meals while showcasing tricks of the trade.

Deals - Host Kat Cosley uncovers secrets and gives tips to getting the very most for your shopping dollars.

Home with Lisa Quinn - Great home decorating and makeovers from interior designer Lisa Quinn

Mexico: One Plate at a Time - Chef, author and teacher Rick Bayless visits various sites around Mexico and samples the local cuisine, then introduces his own versions of the vibrant flavors of Mexican cuisine to liven up everyday cooking.
Hiring America - Several U.S. companies offer real jobs and share uniquely tailored insight on how to get hired as well as career counselors and HR specialists with valuable tips and information to help vets.
The Balancing Act - The Balancing Act is America's premier morning show that brings today's busy on-the-go modern women positive solutions and cutting-edge ideas to help balance and enrich their lives every day.
Military Makeover - From the producers of the award-winning home decorating and remodeling show, Designing Spaces, Military Makeover is a very special mini-series dedicated to giving back to members of our military and their loved ones.
Children's Programming - The Live Well Network airs a variety of programming for kids.
Stay tuned for more updates regarding episodes and ability to stream.
Subscribe!
Subscribe to Chicago Business Info for the latest updates on new restaurant openings, AYCE - all you can eat spots, coupon deals, discounts on your favorite restaurants and businesses, BOGO - buy one get one free specials, businesses, and much more.
Comments
No comments made yet. Be the first to submit a comment