Subway Printable Store Coupons QR Codes Mailer - Expires 10/01/2023
$6.99 Get a Footlong - CODEFL699
$3.99 Get a 6" - CODE6SUB
$12.99 Get Two Footlongs - CODEFL1299
$17.99 Get Three Footlongs - CODEFL1799
$6.49 Get a 6" Meal - CODE6INCHMEAL649
$8.99 Get a Footlong Meal - CODEFLMEAL899
Free Small Fountain Drink When You Buy a Footlong - CODEBEVERAGE
Free Bag Of Chips When You Buy A Footlong - CODECHIPSFL
Free Cookie With Any Purchase - CODEFREEDESSERT
Get a Free Footlong When You Buy a Footlong With A Fountain Drink - CODEFLDRINK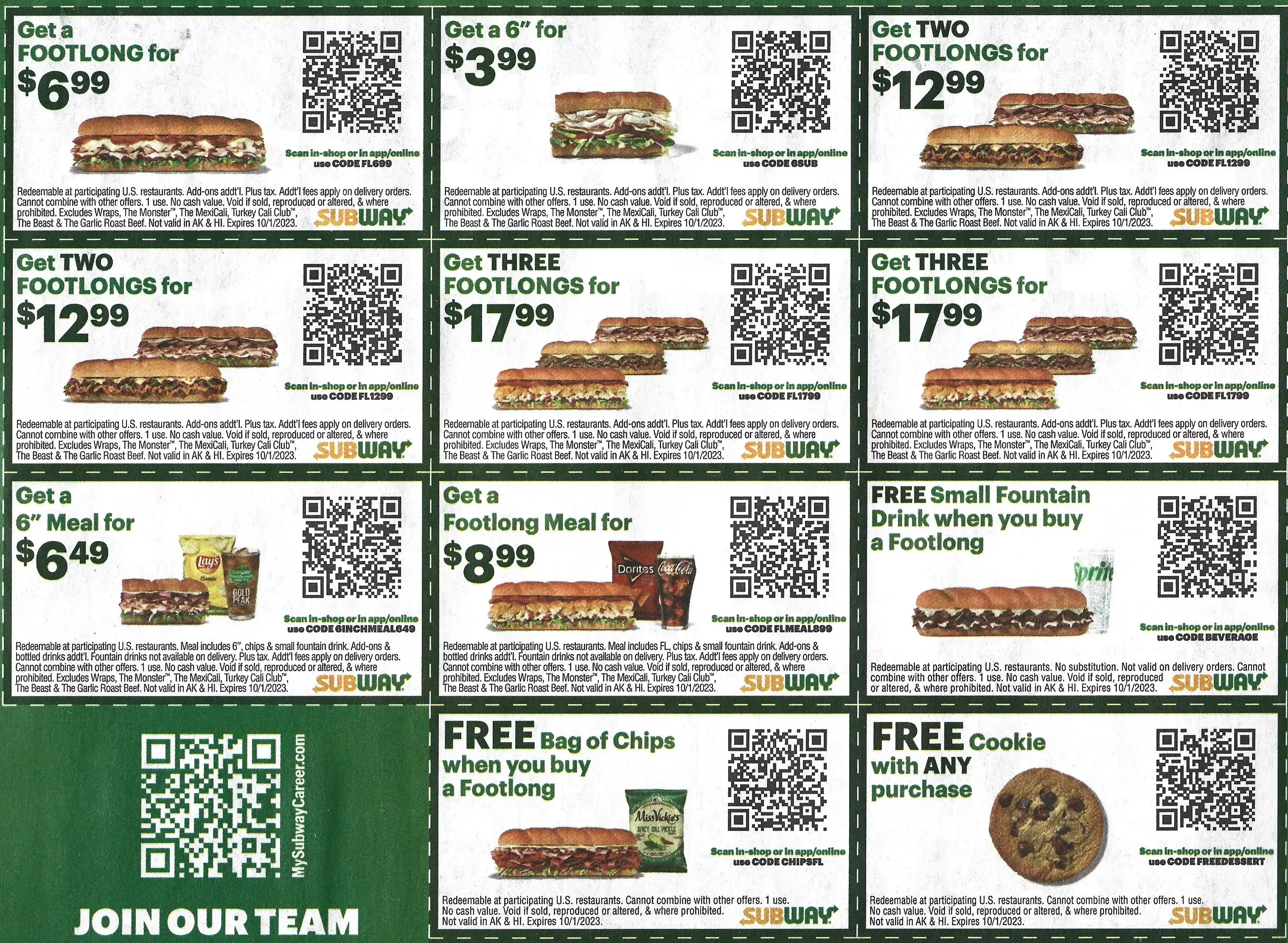 Redeemable at participating US restaurants. Not valid on delivery. Add-ons addt'l plus tax. Addt'l fees apply on delivery orders. Cannot combine with other offers. 1 use. No cash value. Void if sold, reproduced or altered & where prohibited. Not valid in AK &HI. Expires 10/1/23.
Last Updated: September 2023
(Pricing Listed Above is Subject to Change at Establishment)
Want to Submit a listing, deal, or something else? Learn more here.
*Comment to let us know outdated info, closings, feedback, reviews, or anything else related.*
Subscribe!
Subscribe to Chicago Business Info for the latest updates on new restaurant openings, AYCE - all you can eat spots, coupon deals, discounts on your favorite restaurants and businesses, BOGO - buy one get one free specials, businesses, and much more.
Comments
No comments made yet. Be the first to submit a comment