Vito & Nick's Pizzeria (Pulaski)

Family-owned, South Side institution serving up thin-crust pizza & Italian favorites since 1932. Our business started some 84 years ago. Vito & Nick's is a family owned business whose roots originated in Sicily. In 1923 Vito and Mary Barraco opened their first tavern located at Congress and Polk. In 1932 founder Vito Barraco opened a new location at 80th and Halsted calling it Vito's Tavern. In 1939 Vito moved to 79th and Carpenter to include 8 restaurant tables and a bar where they served Italian sandwiches, sausage, beef and snacks. His son Nick joined the business in 1945 after being discharged from the Army Air force. Several years later the family expanded the business to include home cooked meals with Vito's wife Mary Barraco.
They soon became known for inexpensive quality Italian dishes. In 1946 with the help of Nick's mother they began making pizzas. This original Sicilian style pizza combined quality tomato sauce, carefully seasoned sausage, pure cheese, and a guarded dough recipe. This technique has made the pizza stand the test of time (for over 58 years) that Vito & Nick's have become famous for at their 84th and Pulaski location where they are still located today. Through the years, Vito & Nick's has become a favorite dining and gathering spot for thousands of Chicagoans to enjoy the best thin crust pizza on the south side!
Now that you have a brief history of Vito and Nick's past, come see what thousands and thousands of customers already know about the present Vito and Nick's. The future promises another 100 years of "Awesome" pizza success. We hope to see you soon. Nick Barraco - 1965 "We will never deliver, if they want a truly great pizza, they will come in for it." Nick was right. That quote and tradition still stands today at our Chicago location. Manja Bene Bevere Ese Felice
Address: 8433 S Pulaski Rd, Chicago, IL 60652
Phone: (773) 735-2050
Vito & Nick's Pizzeria Menus: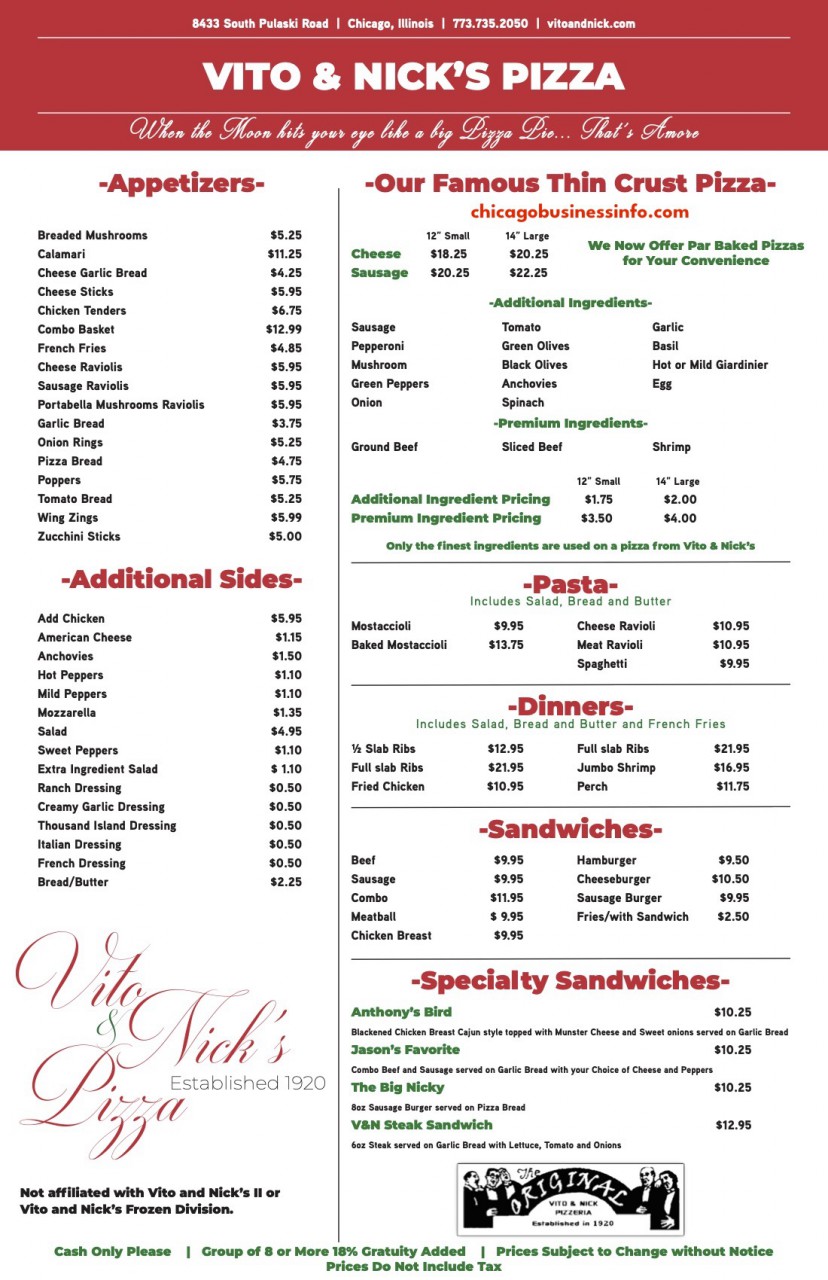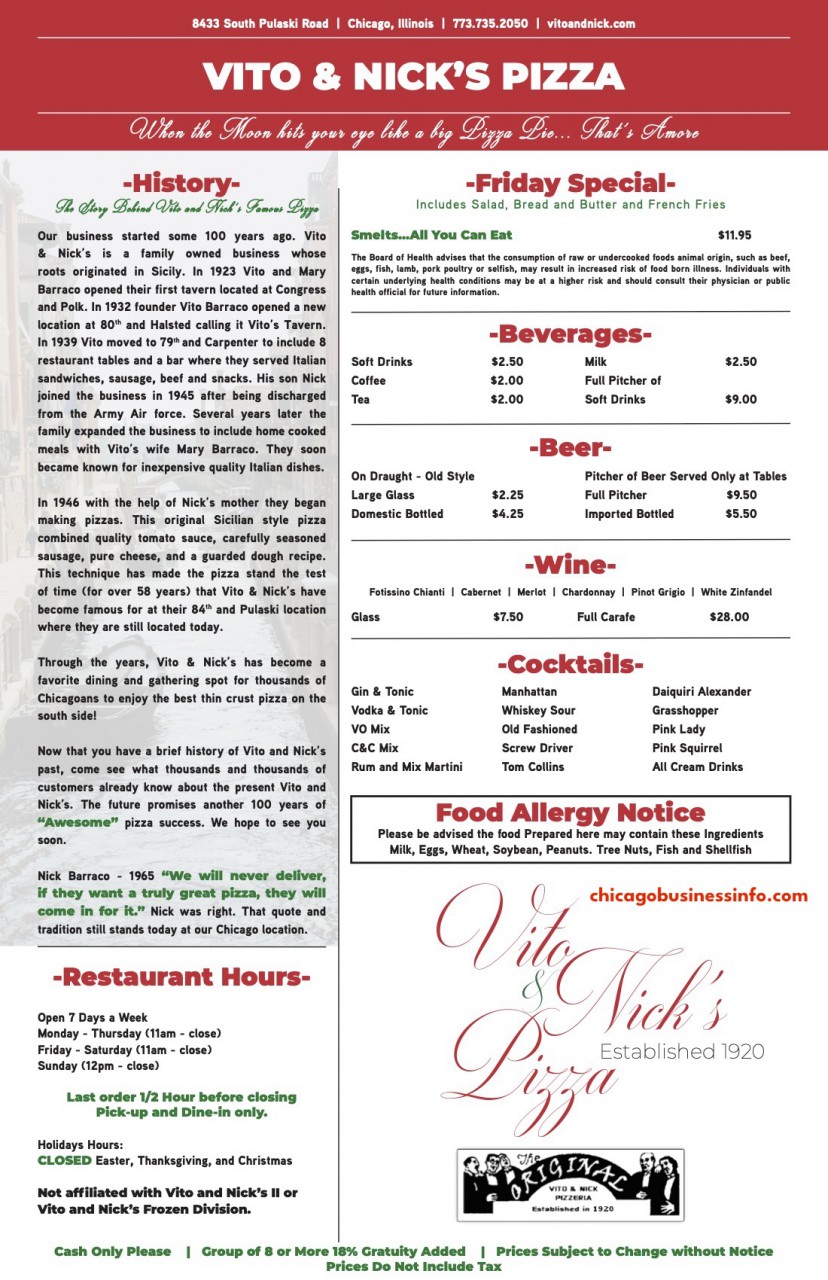 Last Updated: September 2023
(Pricing Listed Above is Subject to Change at Establishment)
Want to Submit a listing, deal, or something else? Learn more here.
*Comment to let us know outdated info, closings, feedback, reviews, or anything else related.*
Subscribe!
Subscribe to Chicago Business Info for the latest updates on new restaurant openings, AYCE - all you can eat spots, coupon deals, discounts on your favorite restaurants and businesses, BOGO - buy one get one free specials, businesses, and much more.
Comments
No comments made yet. Be the first to submit a comment